Photo Credit: GoodStudio/Shutterstock
Everyone knows at least one celebrity who has released a product or service that just seems a bit…weird. These tales of their outlandish ventures can often drive the sales as everyone scrambles to find out whether the product is truly as odd as it seems or if the hype was manufactured to create a buzz around the launch. Here are a few of the strangest celebrity product lines that will make you ask yourself why they even exist in the first place.
Why Do Celebrities Release Products?

As a celebrity's fame increases, you'll often notice an onslaught of products with their name and face on them. Companies have long taken advantage of the popularity surrounding rising stars and used this to sell their offerings, whether this by a branded snack or a beauty product.
The number one reason why celebrities release products is exactly what you think it is: Money. It's a win-win situation in most cases. The celebrity gets an extra stream of revenue from the sales and the company they partnered with also reap the benefits of their notability.
On the other hand, there are celebrities out there who have come out with product lines that they genuinely believe in. Take Kristen Bell and Dax Shepard for example, they have released a line of plant-based baby products as they know parents need access to affordable yet premium items.
Either way, a celebrity product line almost always makes the headlines and generates a large amount of cash.
The Rise of Influencer Marketing

There is a distinct difference between celebrities and online influencers. Influencers can affect their followers' buying patterns and sway them to purchase items just by a simple Instagram tag or YouTube video. They make direct contributions within their selected niche which make their relationship with their audience incredibly personal.
Influencers seem like normal people because they are.
They're also seen as approachable by their audience and are generally well respected. They have a large following online which they have built up due to a specific reason as they often have a reputation of being experts when it comes to their niche.
Many children set their aspirations on being an influencer when they grow up, with statistics showing the most common age to find online success is 25 to 34 years old. So, of course, brands are taking notice of the power these influencers hold and figuring out how to use it to their benefit.
What is Influencer Marketing?

Influencer marketing put simply is a brand collaborating with an individual who has a strong online presence in order to sell a specific product or improve brand recognition. The form this marketing takes varies from influencer to influencer and can include Instagram stories, shoutouts during Twitch streams, or blog posts.
The key to influencer marketing is choosing the right person for the job. An influencer's audience only cares about their opinion and not the brand itself, so asking them to endorse a product that either doesn't fit in with their niche or their personality will only end with a feeling of inauthenticity.
The Difference Between Product Lines and Celebrity Endorsements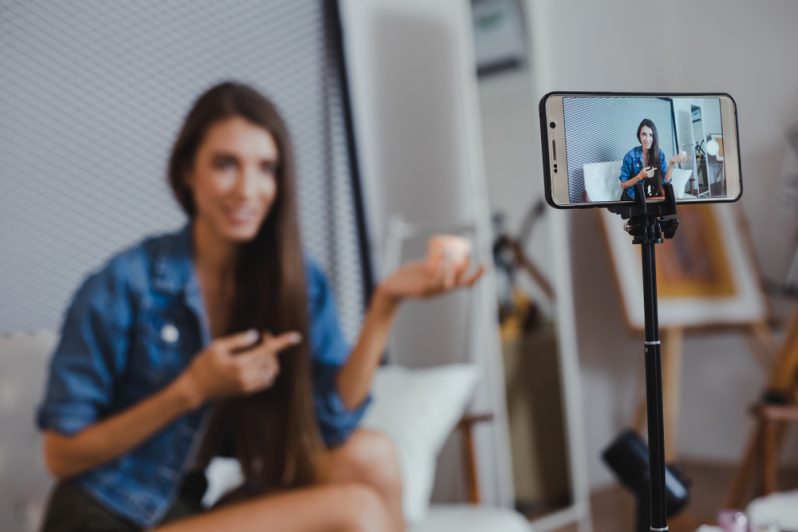 Photo Credit: P Stock/Shutterstock
Brands are always on the lookout for ways to firmly plant themselves in the minds of their customers and one of the most desired forms of marketing is a celebrity endorsement. Unlike releasing their own product lines, celebrities don't have any hand in the manufacturing process of these goods and are there instead to give a personal testimonial of the quality of the product (or service).
The public figure is usually closely associated with the type of product such as a sports star endorsing trainers or a musician promoting headphones. This way, the brand can tap directly into their target audience and come at them from a personal angle of someone they admire rather than a business trying to communicate with consumers.
A celebrity can achieve similar benefits when they release their own product line, but they get to reap them all for themselves. Many people will tend to trust a prominent spokesperson rather than a faceless brand, so combining them with a celebrity making and promoting a product is perfect.
Bizarre Celebrity Product Lines

Releasing products that would go down in history is most likely a dream for celebrities. But when the items are famous for all the wrong reasons, you have to ask yourself how these were approved in the first place.
Gwyneth Paltrow and Her Intimately Scented Candle

If you know anything about celebrity product lines, you most likely have heard all about Gwyneth Paltrow's candle. Promising to smell like her vagina, this candle surprisingly sold out quite quickly and retails at £57.
It has notes of geranium, bergamot, and cedar alongside Damask rose and ambrette seed and is described as deeply seductive which is what you'd expect from a vaginal scent, right?
KISS and Their Casket

KISS saw a gap in the market and ran with it. Instead of selling products for their fans to use in their everyday life, they decided to wait until they had died. KISS and their casket (appropriately named Kasket) made headlines when it was first introduced in the early 2000s.
Decorated with the band members and a cheering crowd, this is truly a piece of memorabilia for the biggest metal fans.
Bill Wyman and His Metal Detector

Another dubious venture from a rockstar, Bill Wyman took his fame and used it to sell…metal detectors. He took his own passion and tried to turn this into a profitable business that promised to help the customers find lost treasures, jewellery, and historic artifacts.
Bill states that it is the "greatest hobby on Earth" so perhaps he's onto something?
Danny DeVito and His Limoncello

Now, this one is quite genius. After his drunk appearance on US daytime TV went viral, Danny DeVito saw an opportunity to sell his own alcohol brand.
We've seen this done numerous times with celebrities making their own gin or vodka, but it's safe to say that Danny holds the monopoly on celebrity limoncello.
Jessica Simpson and Her Edible Cosmetics

The year is 2004. Shrek 2 has just been released. Life is good. It looks like Jessica Simpson is here to improve the year even further by selling edible cosmetics. Gloss you can lick right off your lips and with shampoo you can swig right from the bottle, Dessert Beauty was certainly a new concept.
Sadly for Jessica though, the launch was met with largely negative reviews as customers said the products left them with yeast infections or being mercilessly chased by bees.
Odd Celebrity Endorsements

Before we finish, let's take a look at some strange celebrity endorsements. Questionable at best, these collaborations left fans asking who approved them and more importantly, why?
John Cena and Crocs

An ex-wrestler turned actor would not be everyone's first choice when it comes to these infamous shoes. The brand does encourage its customers to explore their individuality though so perhaps the connection lies there.
Ozzy Osbourne and Butter

When you picture Ozzy Osbourne what do you think of? Maybe the bat incident, his reality TV show, or his rockstar days? We're willing to bet you didn't immediately think of the product I Can't Believe It's Not Butter though.
JLS and Durex

Condoms where you can pick your favourite member by picking up a blue, yellow, red, or green packet. Who better to join you on your night of passion than JLS?
David Beckham and Fish Fingers

Believe it or not, football legend David Beckham was once the face of a brand that sold healthy fish fingers. Packed full of Omega 3, you can find a picture of David holding a plate full of these delicious fingers online.
Penélope Cruz and Nintendo

Known for her sultry yet layered Hollywood performances, Penélope Cruz took on her most challenging role yet. Mario. Dressed in the statement dungarees, hat, and moustache, she sizzled as she brought the video game character to life. A perfect brand partnership.
That completes the strangest celebrity product lines and questionable endorsements to date. We can't wait to see what they come up with next.