If you are looking for Santa Clause this winter, you will find him in Victoria Park and other London locations, on the 3rd of December. In fact, you will find 4,000 jolly Santa's who are looking to run (or walk) a 5k or 10K route to keep fit while raising funds for different charities. This yearly event gets people into the holiday spirit and brings them together with the aim of helping those in real need this festive season. There is no better time of the year to think about those not so fortunate and make an effort however small or large to put a smile on their faces.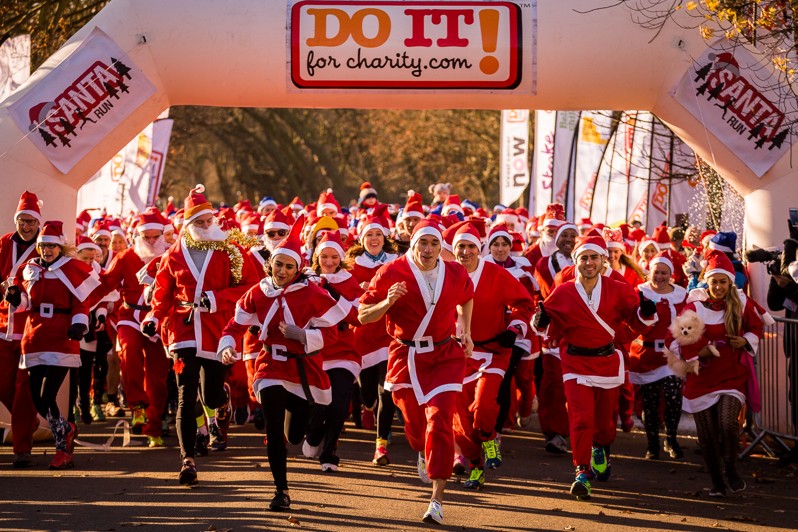 Credit: Skyline/londonsantarun
Skyline, the event organiser for multiple charities such as St Joseph Hospice, Teenage Cancer Trust, Alzheimer's Society, Run 4 Cancer, and Mind, are inviting you to join them and become a Santa for the day. The run will take place in Victoria Park at 11 am. You can either choose to pick up a costume on the day of the event, or you can be creative and make it yourself. The registration fee is £25 pounds and for that price you get a free costume which includes a red cloak, matching trousers, jaunty bobble hat, a belt and the very important beard. After the run, you can get your energy back with free minced pies!
If you decide to be creative and make your own costume you can enter the best costume competition. You don't have to limit your creativity to a Santa costume, it can be anything with a Christmas theme, from cheeky elves, to jolly snowmen – you can be as imaginative as you wish.
If you want to teach your children about the gift of giving, a Mini Santa Run is available for children aged eight or under, which will take place before the main event.
Siobhan Dillon, the co-founder of Skyline and Do It For Charity said: 'In its 9th year, the annual Do It For Charity Santa Run has to date, helped to raise hundreds of thousands of pounds for charity. As 5km and 10km runs, anybody can join in and complete the course whilst doing something invaluable for a great number of fantastic causes. So many UK charities depend solely on the fundraising efforts of the public and there's no better time to give than at Christmas.'
For more information about the event visit: http://www.londonsantarun.co.uk/whats-it-like.aspx.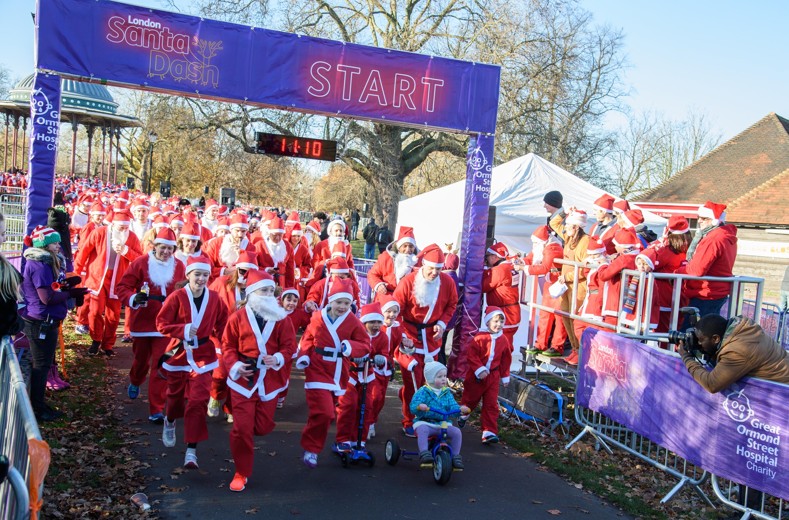 Credit: GOSH
Another Santa run that promises to raise money for seriously ill children is The London Santa Dash. Organised by Great Ormond Street Hospital Children's Charity, the event will take place in Clapham Common on the 3rd of December at 9.30 am (run starts at 11 am). This is the third year the charity has organised this event, and the money raised are aimed "for children to aid their treatment, recovery and understanding of their illness, making their hospital experience as stress-free as possible."
The registration fee is £25 for adults, £15 for children and young people age 5-15, and free for infants age four and under. Included in this fee, you receive a Santa costume, an unforgettable experience at the Christmassy event village, delicious mulled wine and a mined pie, and a finisher's medal to keep as a souvenir.
Laura Savory, Head of Community Fundraising at Great Ormond Street Hospital Children's Charity, said: "We're counting down to this year's London Santa Dash. Whether you choose to run like Rudolf or walk in our winter wonderland, this festive fun run is the perfect way to get into the Christmas spirit for a fantastic cause. We are calling for runners of all abilities to jingle all the way and join the Santa Dash today."
This year's event is sponsored by Galliard Homes. For more information visit: http://www.gosh.org/get-involved/fundraising-events/london-santa-dash.
Feature image credit: Skyline/londonsantarun