'Pulling a sickie' is familiar territory for employees, but an inconvenience for employers. In fact, figures by BreatheHR shows that £357 is the average cost to an employer for each worker who throws a sickie. The same research found they cost the UK an astronomical £900 million a year.
Interested in sickness rates, Journalistic.org in conjuction with Adzuna.co.uk surveyed more than 3,500 employees to find out how many had 'pulled a sickie' in each UK region in 2017. Adzuna also sought to find out which industries had the most employees skiving off in 2017.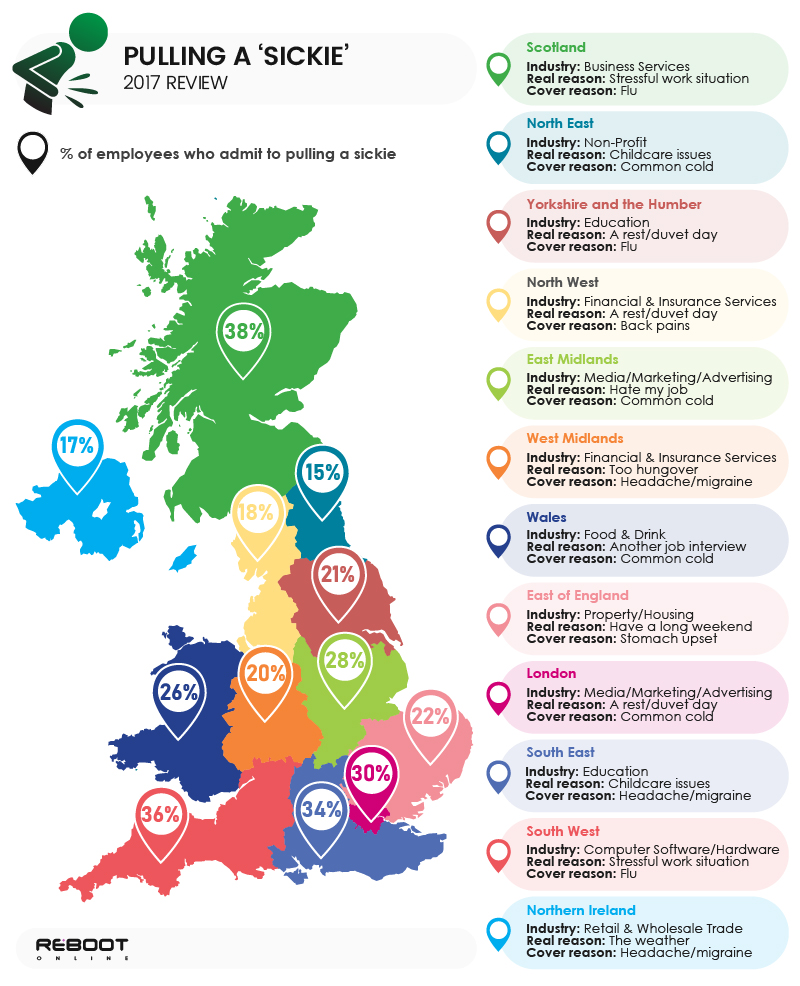 The findings revealed that employees in Scotland were the biggest offenders with 38% shockingly admitting to doing so. Business services was the industry in which it was most prevalent. Interestingly, the real reason the majority pulled a sickie in Scotland was because they wanted to avoid a stressful situation at work (e.g. meeting, presentation etc).
On the other end of the scale, the North East was the region which had the lowest number of employees who faked a sickness, with employees in the non-profit industry the most common. Childcare issues were the most citied reason for faking a sick day.
Overall, out of all those who admitted to faking being sick, 18% confessed to getting caught by their employer. Out of the 18% who got caught – 36% were given a verbal and/or written warning, 24% an informal 'telling off', 22% faced no action and 18% were fired from their job.