Over the years, CBD has grown in popularity and become increasingly easier to get hold of due to the various health benefits of medical marijuana. The most popular way of ingesting CBD is through dropping CBD oil into the mouth orally, however now there are a range of different methods available that have taken the CBD world by storm, including CBD chewing gum which offers a convenient and discreet way of taking a dose of CBD – whether it be whilst shopping or in the office.
As a result, we have tested a range of CBD gum to explore which is the best CBD gum brand in terms of:
– How much they cost per pack/gum
– The ingredients used
– How environmentally-friendly the brand is
Read on to read our full CBD gum review of six of the main CBD gum brands available in the UK.
A comparison of 6 CBD chewing gums:​

Canabiotics CBD gum review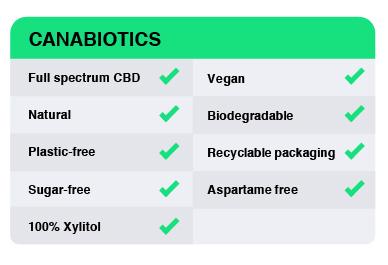 Canabiotics CBD gum contains 10 pieces of chewing gum, which have all been carefully infused with full-spectrum CBD oil and Spearmint/Peppermint flavouring, to offer a simple and discreet way of taking CBD whilst on the go. It is worth noting that Canabiotics are the only brand to have different flavour choices.
This brand of CBD chewing gum is not only sugar, plastic and aspartame-free, it is also made from 100% natural ingredients – this means that the gum is suitable for vegans. The gum also contains 100% xylitol, which is a sweetener, to add a sweet taste to the chewing gum without damaging your teeth like other sweeteners and sugar would do.
Canabiotics have not only ensured their CBD gum is good for the body, they have also considered the environment too. Each piece of CBD gum is created using a plant-base gum which is biodegradable – not plastic like other gum types – and is packaged in materials that are 100% recyclable.
5mg 7.5mg 10mg 15mg
Price per pack: £5.99 £9.99 £12.99 £18.99
Price per gum (Approx.): £0.60 £0.99 £1.29 £1.89
Endoca CBD gum review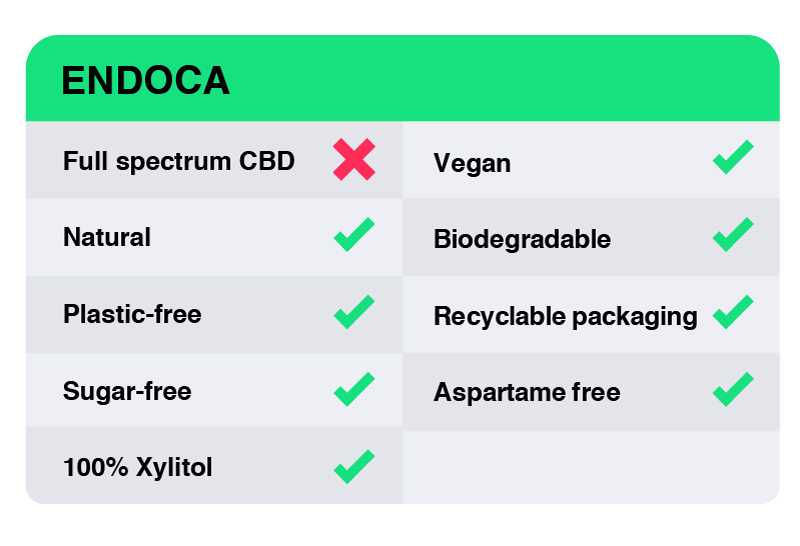 Each pack of Endoca CBD chewing gum contains 10 gums and is made using 15mg of CBD. It is flavoured with peppermint, mimicking a classic chewing gum and offering a discreet way of taking CBD.
Endoca's flavouring is made from wild plant essential oils, which is good for cannabinoids because CBD has similarities to essential oils – for instance, essential oils are often used for aromatherapy, which offers calming benefits.
As well as using essential oils that will boost benefits of CBD, Endoca also uses all-natural ingredients from the rainforest, which help to give the CBD gum a gum-like texture. Furthermore, just like Canabiotics, Endoca is plastic, aspartame and sugar free, and contains 100% xylitol, which ensures they are much more environmentally friendly and better for your teeth and body too.
Price per pack: £12
Price per gum: £1.20
Wellness Gum CBD review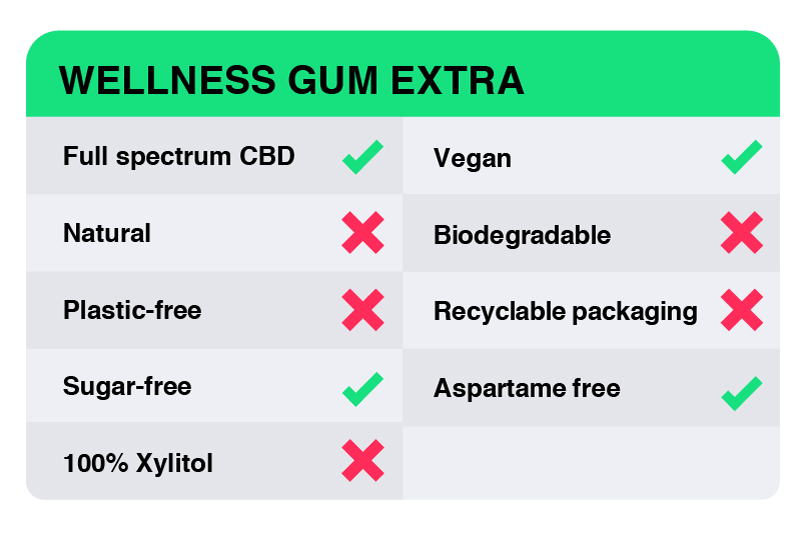 Wellness Gum (formerly CanChew+) offers a mint CBD gum made from 10mg of phytocannabinoids and 50mg of CBD, which ensures you are going to reap the benefits. They recommend having 2 gums a day to experience the best results, which requires a new pack every 15 days. This may be costly when each pack of 30 costs almost $70, making it one of the most expensive on the market.
Wellness Gum is branded as a "healthy" gum option, as they claim to be non-GMO and vegan, with no artificial sweeteners. However, it doesn't contain 100% xylitol which is major turn-off for many CBD gum users. It also has a plastic gum base, which means it is hard to dispose of and decompose. Despite this, the ingredients allow for quick absorption and maintained bioavailability to deliver the best results.
Price per pack: $69.99 / £54.37
Price per gum: $2.33 / £1.81
Bhang Gum CBD gum review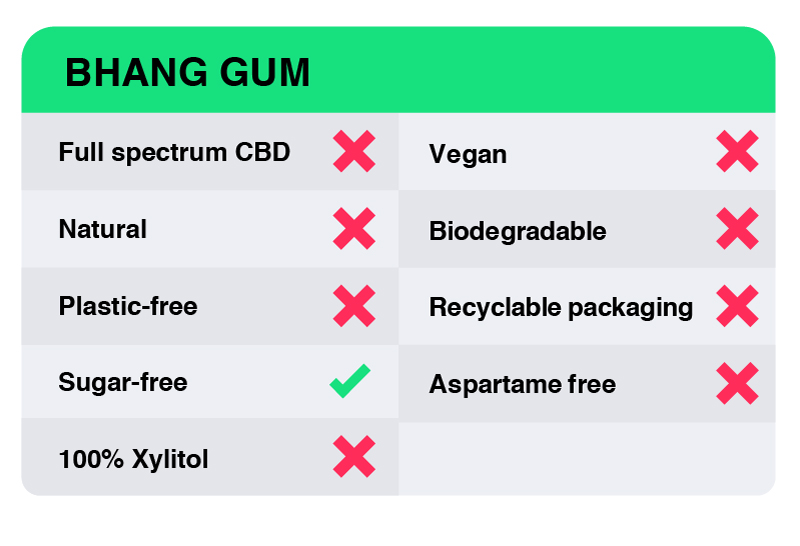 Bhang Gum is a zero-calorie, sugar-free, mint-flavoured CBD gum which has been sweetened using stevia and xylitol. The gum is blended with mango and lemongrass extract, to allow each user to reap the benefits of CBD in a small, discreet treat.
However, unlike other brands, Bhang Gum is not plastic-free, biodegradable, natural or vegan, which makes it problematic for the environment.
This CBD gum brand is priced higher than most, setting you back $10 per 4-pack, equating to $2.50 per gum. This simply due to the CBD content being much higher than other CBD gum brands, at an impressive 25mg – the higher the CBD content, the higher the percentage of CBD will be absorbed by the body.
Price per pack: $10 / £7.76
Price per gum: $2.50 / £1.94
Kingdom of Green CBD gum review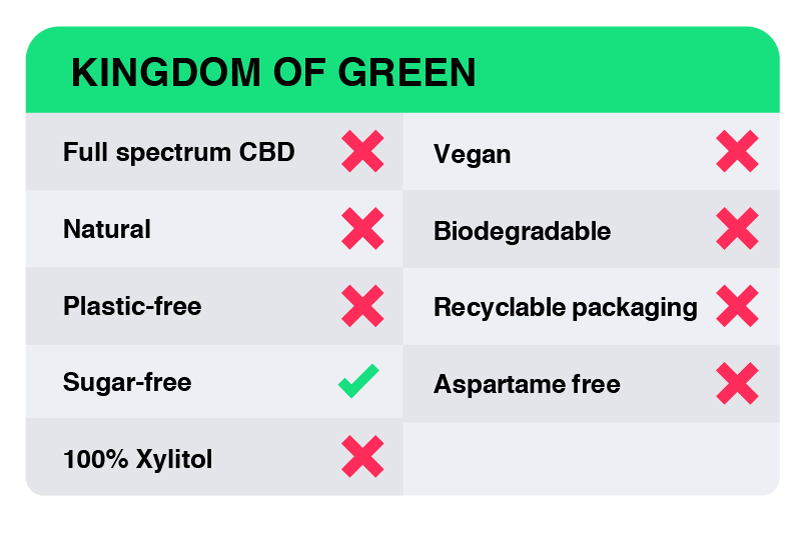 Meet Kingdom of Green, the most affordable brand of all. Their 12-pack of CBD-infused gum costs just $4.99, which means that each piece of gum is approximately priced at around 41 cents. Despite this, their CBD gum is made from 1.5mg of CBD per gum (18mg per packet).
Due to its budget price, the CBD gum is fairly basic and doesn't have any typical mint flavourings. It is not natural, plastic-free, aspartame free, vegan or biodegradable like other brands; the only thing is that it is sugar free – great for your teeth and body.
Price per pack: $4.99 / £3.87
Price per gum: Approximately $0.41 / £0.32
Blockhead CBD gum review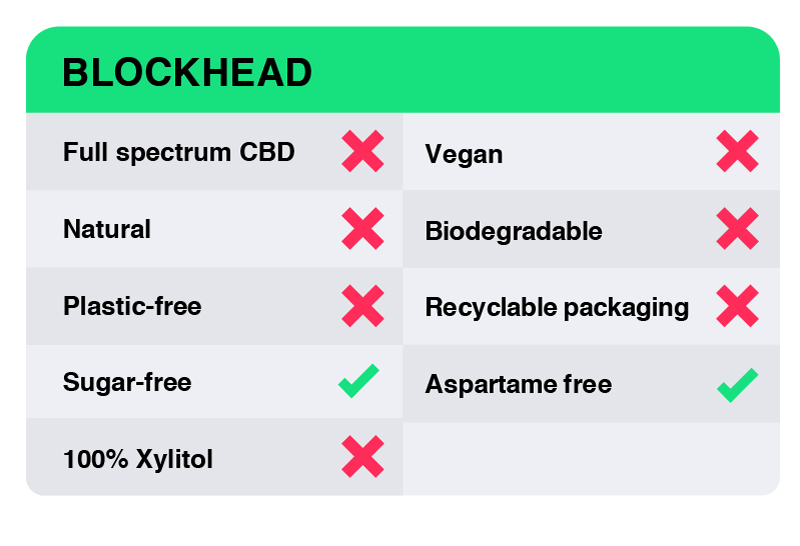 Blockhead isn't new to the world of gum – they have previously produced other popular gums such as vitamin gum and energy gum. Their brand-new peppermint flavoured CBD gum ensures their gum is chewed discreetly, despite featuring 3mg of CBD per gum. Not to mention it is reasonably priced too, as a standard pack of 7 is priced at £4.99 – equating to approximately 71p per gum – making them highly affordable for any CBD lover.
Their CBD gum is sugar-free, aspartame free and contains zero calories, which is highly appealing. The gum is made under the premise of being non-GMO and vegan, however the gum is created using many chemical ingredients, which could be a turn-off to many health-conscious users.
It's also not very eco-friendly in comparison to other CBD gum brands, such as Canabiotics who offer biodegradable gum, and Canabiotics and Endoca who have plastic-free gum bases.
Price per pack: £4.99
Price per gum: Approximately £0.71
Which CBD gum is best?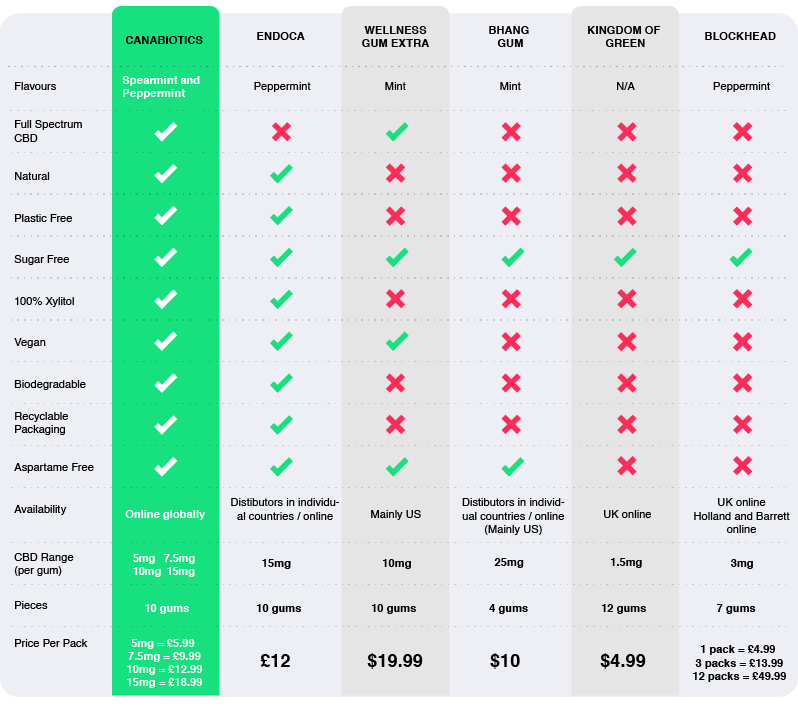 Of all CBD gum brands, we believe that Canabiotics is the best CBD gum on the market as it contains full spectrum CBD, uses natural ingredients and is great value for money. Following closely behind is Endoca CBD gum, which also uses natural ingredients and is highly affordable for those wishing to try this new method of taking CBD.